The digital space is constantly evolving and at the same time, it is becoming more and more important in everyone's everyday lives. That makes the digital marketing strategy you use essential to your success on and offline. You need to be able to attract your target audience in a crowded digital space. So how do you avoid the common pitfalls that others struggle with and achieve a viable digital marketing strategy?

A great place to start is avoiding the ten deadly sins of digital marketing. If you can stop yourself from making these mistakes then your path to digital marketing success will be clear!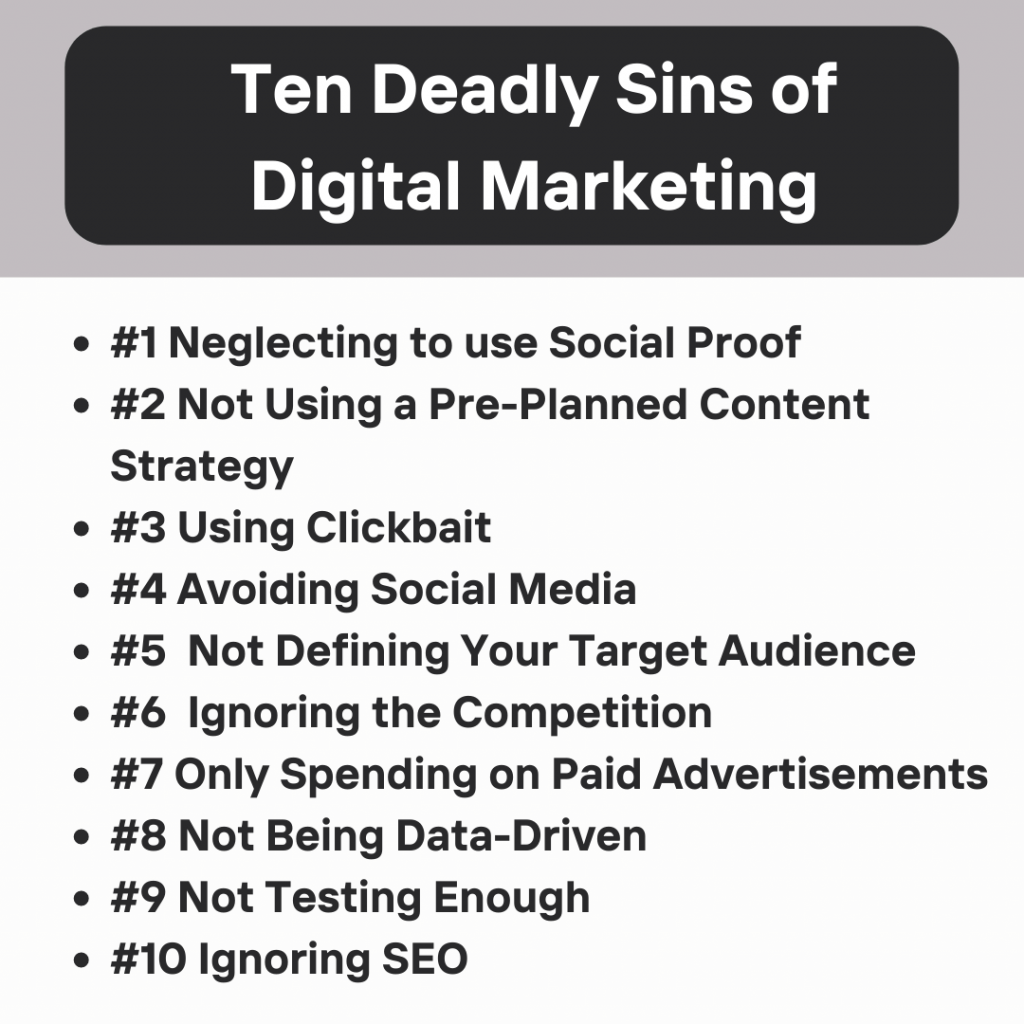 #1 Neglecting to use Social Proof

Firstly, what is social proof? Basically, it means that when people shop, they look for reviews, recommendations, and ways that others have used a product before making their decision.

The use of social proof is essential for the success of any business. It helps to increase conversions, improve click-through rates, and drive traffic.

Businesses often do not center on their website testimonials, reviews, or other forms of social proof. Many businesses feel cheesy or like they are bragging when they highlight these positives. However, this is a major mistake! Customers want reassurance from previous shoppers to ensure that they are making the right decision. The need to build trust before deciding on which product or service to buy.

That is why it is so important for new viewers to view reviews and testimonials. These can increase confidence in your brand. Both reviews and case studies are amazing for conversion and customer retention! Make sure to include them in your marketing strategy.

You can see some examples of Accessily case studies here to see what types of content would add value to prospective customers: Guest Post Campaign Case Study, Quora Case Study

#2 Not Using a Pre-Planned Content Strategy
Content is everything in marketing. If you don't have engaging and interesting content you have no hope to connect with your audience. It is essential to have a thoughtful content strategy that will be able to provide value to the audience.

There are many ways to create valuable content, from guest posting, writing a blog on your site, creating videos, and writing posts on social media channels. All of these activities when done correctly improve your reputation and brand image.

The most important thing when it comes to content is making sure that you have a clear and cohesive message across platforms and that you publish content on a consistent schedule. If you are sharing it sporadically it will not have a meaningful impact.

#3. Using Clickbait
Many digital marketers, in order to boost customer engagement, tend to invest in content that is clickbait in nature. Clickbait is content that puts a clever spin on words to make it sound very appealing to customers, without holding any real value for them.

For example, if you use phrases such as 'you will never believe what happened next even though the content inside is very much believable by the average joe, you are using clickbait to lure audiences to your page. Such practices tarnish your brand's reputation and credibility.

Instead, focus on creating content that delivers actual value to your target audience, and tell your audience exactly what they can expect to find inside the article. That way, your viewers will never be disappointed with the actual content inside, eventually becoming regular visitors due to the availability of good quality content.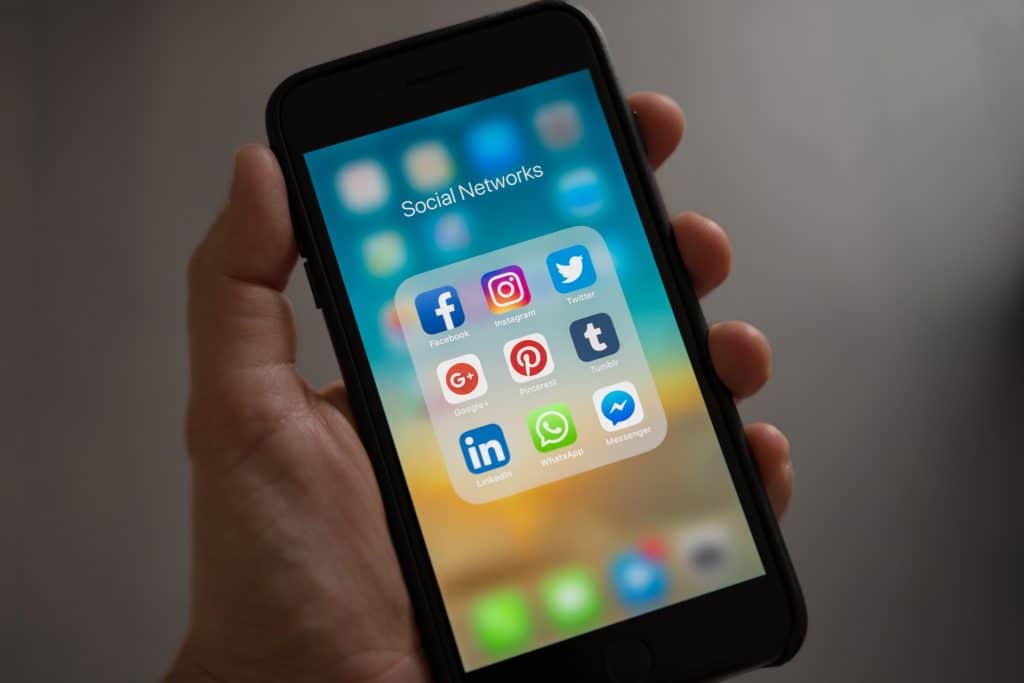 #4 Avoiding Social Media
Social media is essential to any company! That is because it is one of the best ways to build relationships with customers and potential customers.

You can utilize social media to accomplish many things from advertising to customer service to content marketing.

If you share relevant and interesting content you can reach a wide audience that can convert easily to customers. You also need to focus on the right social media channels for your business. You can start planning your social media calendar with our template, and you can include guest posts into your content strategy. You can also get social media shout-outs on the Accessily marketplace, on Instagram, Tik Tok or Quora!

#5 Not Defining Your Target Audience
It's not worth digital marketing to as many people as possible. A better way is to focus your digital marketing on a more focused target market – this will give you a higher number of qualified leads.

It is very important to identify the right customer when digital marketing your product or service. Who are they? What are their demographics? What are their needs and pain points?

Having an understanding of your customer can give you a better chance at reaching them with customized content and then turning them into customers.

#6 Ignoring the Competition
Ignoring the competition is a common digital marketing mistake that many companies make.

It is important for us to understand what they have been doing and how we can do better than them.

Figure out what makes your brand special and highlight it on your site. Your website should make it clear to visitors what sets you apart from the other brands. You can do this with charts or blog posts. You can also make sure to fill in gaps if your competition advertises in a way that you don't.

Related Content: Taboola vs. Accessily, Guest Post Service vs Accessily, Guest Post Outreach vs Accessily

#7 Only Spending on Paid Advertisements

Digital marketers tend to spend the entirety of their digital marketing budget on paid advertisements, leaving behind little to no budget for other, possibly more effective, digital marketing strategies.

Instead, as a digital marketer, you should only spend on paid advertisements if you are interested in generating more visibility for your brand. If your brand already has an organic following that is gradually increasing with time, you might be better off investing in other digital marketing tools, such as the development of high-quality content or spending on SEO. You can see which marketing channels have the best ROI here.

#8 Not Being Data-Driven
If you are still making your digital marketing decisions according to your gut then you are missing out!
You need to analyze your data to make meaningful decisions about your marketing's next step. If you have current campaigns are they showing results?
The biggest advantage that you have in digital marketing over conventional marketing is the kind of personalization you can do and the amount of data that you can collect to measure your campaign. Make sure you use the power of data to boost your marketing.

#9 Not Testing Enough
This is related to the mistake of not using data to make decisions. You can't use data that you don't have. If you don't measure your marketing campaigns then you don't really know what is working and what is not.

You can do A/B testing for email marketing for example. You can also track the metrics for conversion on running ads in different places. All of these activities will provide valuable data that can inform your decisions on where to continue spending on marketing and where to cut back.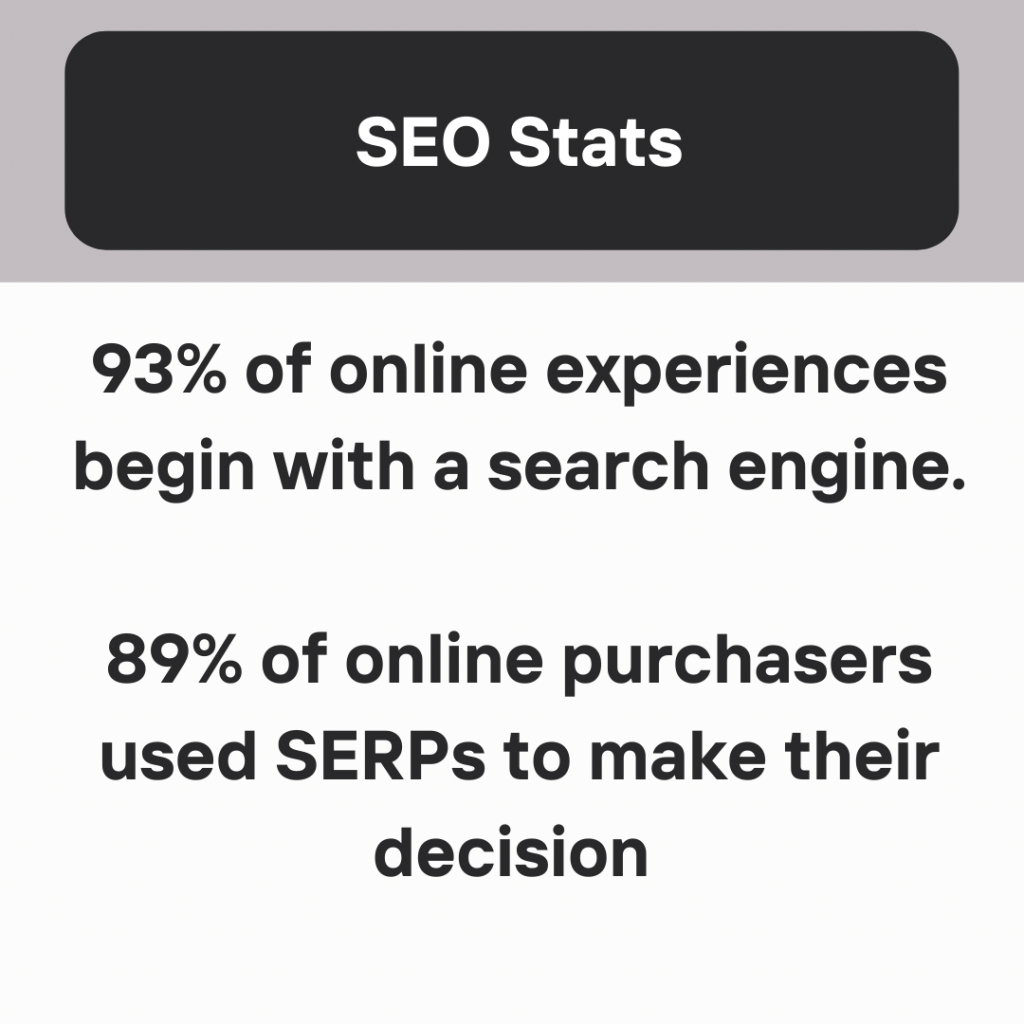 #10 Ignoring SEO
Ignoring SEO today can be one of the biggest mistakes a marketer can make.

93% of online experiences begin with a search engine.
89% of online purchasers used SERPs to make their decision
These numbers paint the picture of how important SEO is to a customer journey. Basically, without optimizing search you will be losing tons of potential traffic and sales.

Focusing on SEO will give you more visibility with time reduce your marketing costs to get similar results. It is basically a win-win!

SEO Resources: Technical SEO, Powerful Backlinks for SEO, SEO for Small Businesses, Local SEO

Take-Aways:
This list is a helpful guide to the easiest digital marketing mistakes to make and how to avoid them. If you create a solid plan and focus on investing in the right resources then your chances to succeed in promoting your business skyrocket! Make sure to be thoughtful and purposeful in your digital marketing decisions.