If you'd like your business or product to be featured in Forbes, this tutorial will walk you through a no-risk way to get published, or your money back.
Guest posting is a powerful digital marketing strategy that can improve SEO, increase brand awareness, and increase traffic to your website. Since guest posting has so many benefits it makes sense that many people want to do it as part of their overall marketing plan.
What are the benefits of getting published on Forbes?
why you should want to get a Forbes feature in the first place? Even if you already see a lot of value in such a placement, You should know all the benefits that arise with an article on your business, especially when it comes to leveraging a successful placement properly.
Create new and relevant backlinks.
Drive fresh and organic traffic to your site.
Generate new opportunities and leads for your product.
Build a search-engine friendly brand identity.
And most importantly, you can build a personal portfolio of sites that you have contributed your content to. In as competitive of a market as guest blogging (content marketing) — having a solid portfolio can make all the difference between landing an opportunity or being declined.
That said, let's look at another factor of success. And that factor is quality.
How much does it cost to get featured on Forbes?
When we started Accessily we wanted to make guest posting as easy and accessible as possible, so that anyone can do it and see results! Then we expanded into new channels, like social media so that our users could use the same streamlined process for guest posting in order to get creator shoutouts and more!

In order to make sure that Accessily is providing the best creator and guest post solution on the market, we decided to compare ourselves to the top guest post outreach services.

Accessily Guest Post Marketplace
Before we look into the pros and cons of specific outreach services, let's take a look at Accessily!
Accessily is a creator marketplace where 25,000+ sellers list guest post opportunities and social media shoutouts in a variety of niches, industries, and languages.
You can either buy guest posts directly from the marketplace or automate the process by setting up a campaign according to your preferences.
Accessily streamlines the process of guest posting because it connects you to websites and online publishers that are ready to sell which cuts out all of the outreach and negotiation phases! This is much more time-efficient than guest post outreach.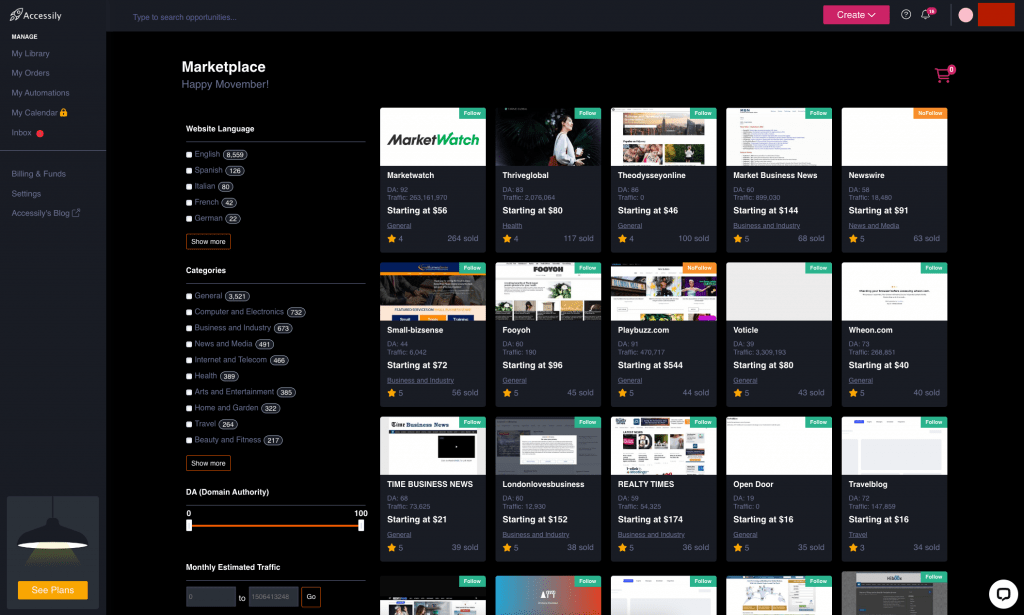 How to Get Started?
Step 1: Sign Up at Acessily
Sign up for a free account at Accessily – you can either sign up via email, Google, or Facebook. Registration is 100% free, and no credit card is required.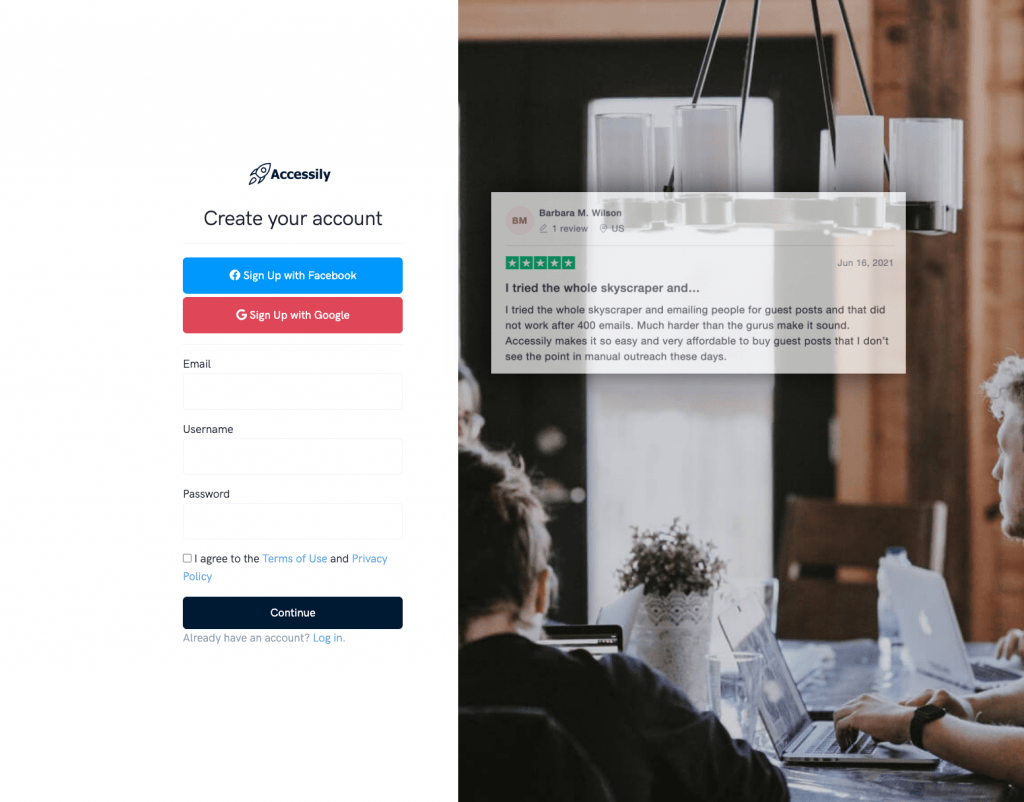 Step 2: Go to the Accessily Marketplace
Once you logged in you'll be automatically redirected to the marketplace, but if you doesn't so you need to click on the "Create" button on the top right corner and then choose the "Marketplace" option.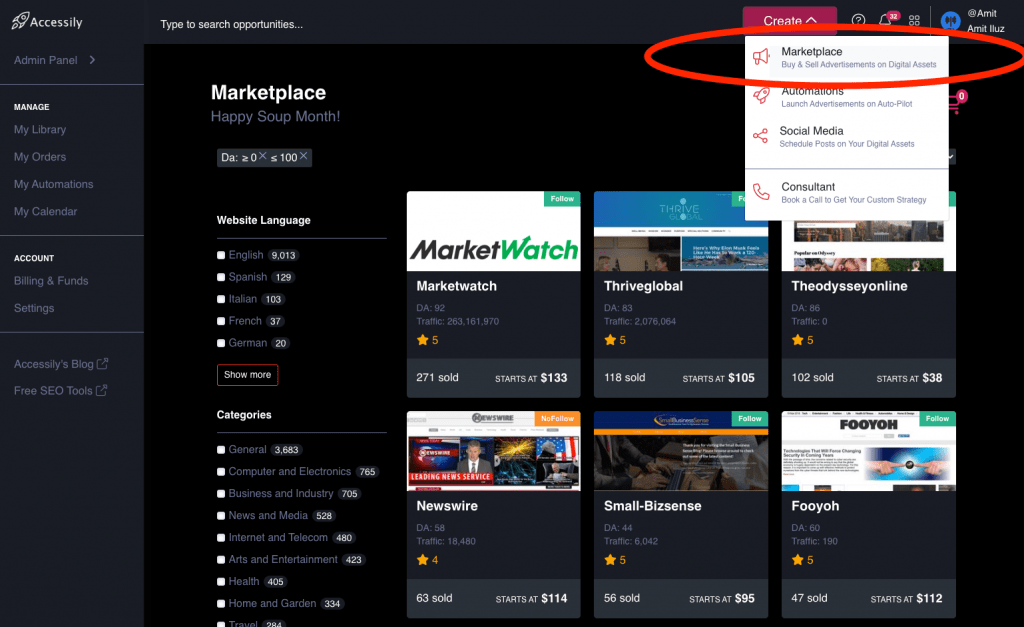 Step 3: Select Forbes
You should see Forbes near the top of the list. If not, use the search field and search for "Forbes".

Note that Forbes only allows "nofollow" links, so this isn't super useful for SEO. It is however useful for brand awareness, PR, and marketing.

Click on the listing to see the details.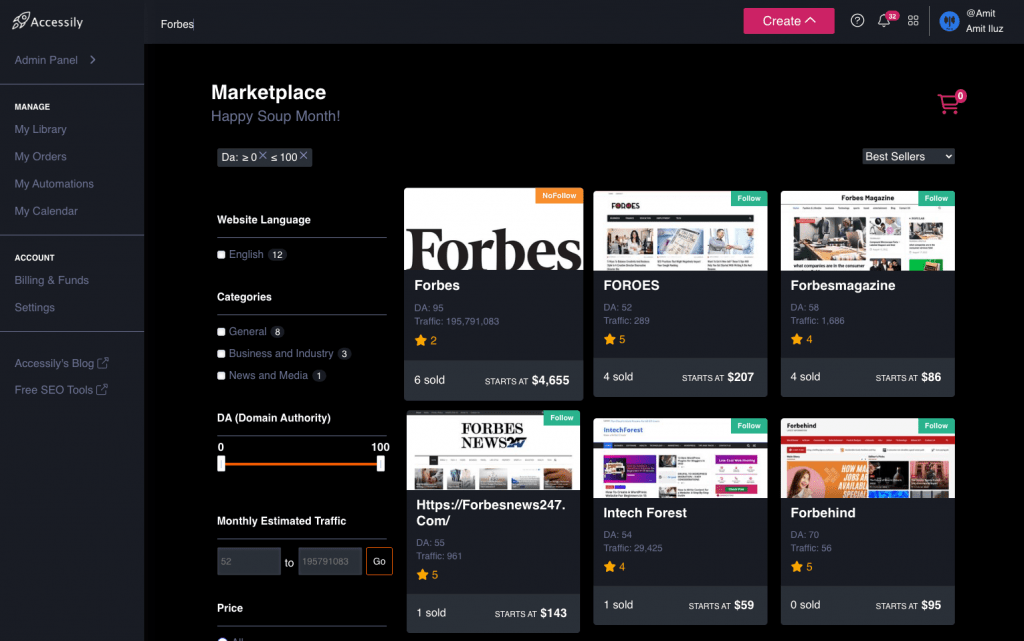 Step 4: Read through the Details and Select a Publisher
Each publisher will have a different price and different available options.
For example, some publishers will include content writing in their price (where they write it), while others will have an extra price or won't offer content writing at all.

Each publisher will also have different turnaround times. Don't forget to check out the reviews of each publisher.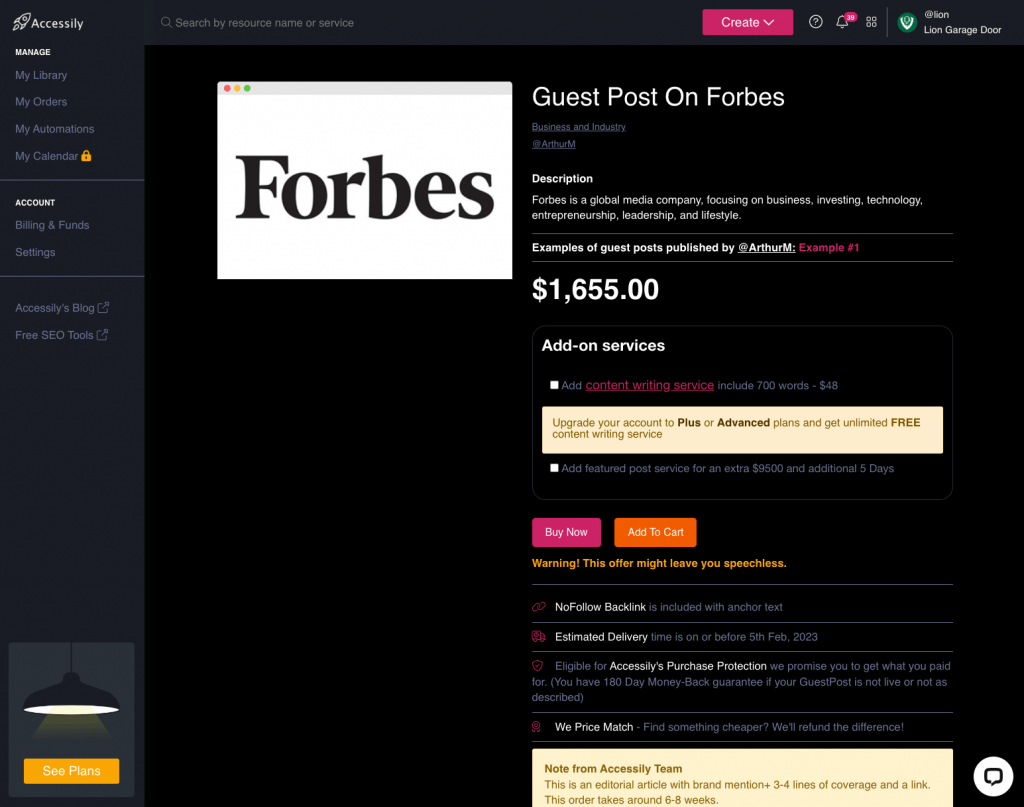 Every purchase includes a 100% money-back guarantee. So if your article doesn't get published within the turnaround time listed, you will automatically get a refund.
Step 5: Place the Order
When you've found the perfect publisher, place your order.
If you've written an article already, this is the time that you will need to submit it.

Or if you want the publisher or one of Accessily's writers to write it, select that option and let them know the details of what you want written.

Your publisher will contact you if there any questions.
That's all there is to it! Your article will be published on Forbes within the advertised turnaround time or your money-back. Have fun!