One of the most significant challenges in SEO is scale link building & measuring the effectiveness of the backlinks.
Backlinks are extremely valuable for SEO because they represent a "vote of confidence" from one site to another.
Scaling link building is tricky in competitive industries, especially when you're up against big brands who may be generating far more links than you each month. Just building enough links to keep up with them — let alone outpace them — can be difficult.
Of course, link building is becoming less a numbers game (and has been for a long time). Still, the truth is that you're likely to need a good volume of links in order to compete.
In the next blog post, we will go through all the possible strategies to scale your link-building efforts in a natural way and also will share with you how to use the Accessily platform and get hundreds of high-quality backlinks in a matter of hours.
What is a backlink?
In short, A backlink is a link created when one website links to another. Backlinks are also called "inbound links" or "incoming links." Backlinks are important to SEO.
In essence, backlinks to your website are a signal to search engines that others vouch for your content. If many sites link to the same webpage or website, search engines can infer that content is worth linking to, and therefore also worth surfacing on a SERP. So, earning these backlinks can have a positive effect on a site's ranking position or search visibility.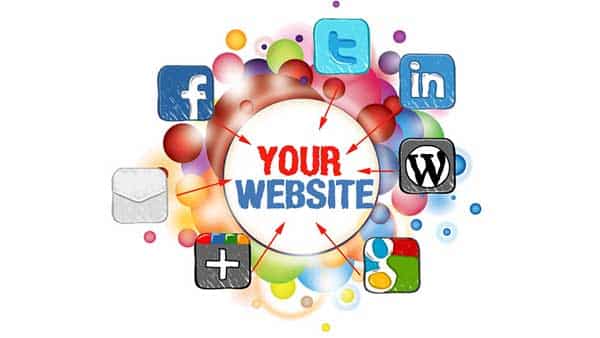 How many links do you need to rank on the first page of Google
There's no magic answer here that'll make Google suddenly rank your web page over another page. That said, in order for Google to consider you a contender with the results listed on page one, you need to make sure you get around the same number of links that the results ranking on page one already have.
Knowing how many links these highly ranked pages have will give you a baseline target for how many links you'll need.

In order to examine how many links you need to be in the first place, you must calculate the average of the links of each of the results from the first page. You can use Moz tool, Ahrefs, or Semrush.
Once you figure out how many links your content should have in order to compete in search, you might be thinking to yourself, "How do I identify which piece of content should contain all those links?" Again, you'll look to the top 10 results in search for the same broad topic. Click in to each URL and skim through the content. Ask yourself questions like:
What are the common themes and elements you see on these pages?
What commonalities do you see in the information itself, the words they use, the structure of the content, and the length?
In order to compete with these results in search, you need to have a piece of content that includes these same themes and elements.
Are the top results in search mostly long blog posts? Videos? Resource lists? You might be tempted to stand out by creating a piece of content that's different and unique, but that will not serve you well with SEO. When it comes to SEO, doing what others that are ranking well are doing is generally the way to go.
How to get people to link to your website
Over the last few years getting other websites to link to your website at scale has been getting more and more difficult. These days, when people like a piece of content you've written, they're more likely to share it on social media than they are to link to it from their blog. That's why it's more important now than ever before to proactively build backlinks in order to give an initial push and gain momentum.
Backlinks to a post not only help that specific post rank better in search engines but also help all other posts on your site. Get enough quality links, and you'll be getting tens of thousands of organic search engine visitors a month to your site.
If you want great backlinks in the modern SEO world, you need great content.
It's as simple as that.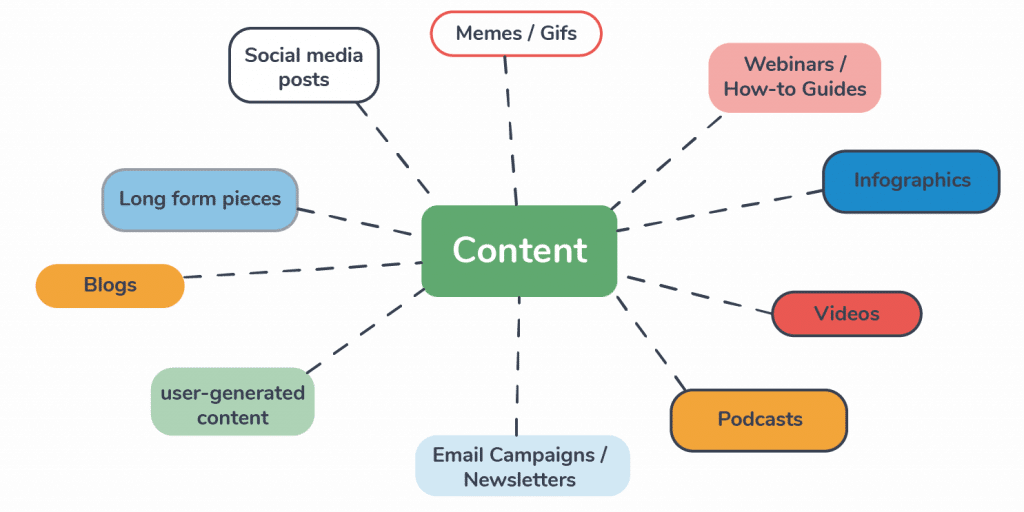 5 Most Scalable Link Building Strategies
1. People have and will always love list posts
In an in-depth study of over 220,000 articles, Fractl and BuzzStream found that list posts were the most shareable.
These results confirmed an earlier analysis by Buzzsumo and Okdork of 100 million articles. List posts were only beaten by infographics:
Why people love list posts: Despite the fact that a lot of people complain about having to read "just another list post," list posts remain one of the most popular content types. That's because lists have a few key things going for them:
they make a specific promise: a reader knows how much attention they'll have to spend on the article
they are scannable: almost all readers scan articles. Since each list item is usually a subheader, it's easy to get the gist of an article quickly.
they invoke curiosity: it's almost like a test. Can you guess the X ways to do something? Sure, you probably know one or two off the top of your head, but that leaves a big curiosity gap that you want to fill.
list posts are great for you as a content creator is that they are among the cheapest to make. As you'll see with some of the other content types, it's not uncommon to spend thousands of dollars to create content that attracts a ton of links. It's rare for a list post to cost much more than a few hundred (in expensive cases).
2. Go beyond expectations with guides
Before you get too excited, I need to give you a quick reality check.
Creating a guide of this level is not easy.
It will either take you several (possibly over a hundred) hours to create or it will cost you thousands of dollars to have someone else create it for you. If you cut corners, you won't get the same type of results as shown above.
From a long-term perspective, I think the ROI on these guides is fantastic. It works out to under $20 per link, and the guides drive a ton of traffic and considerably increase the value of your personal brand.
3. Make a work of web art (aka infographics)
Infographics are currently the most viral type of content you can produce. When they were a novelty, they used to go viral fast because people were fascinated by infographics. Today, you'll have to produce a higher quality one for it to get traction.
4. Make an influencer look amazing
Although it's just a single link, it's an extremely high-quality one. In addition, it would get you exposure to thousands of people in your niche, many of whom may link to you in forums or social media discussions or blogs of their own. That one link will likely turn into several more.
When done right, this strategy will lead to links over 50% of the time. Just make sure you follow the influencer's advice as intended and get a great result before sharing.
The bigger the influencer you target, the higher quality the link will be, but the more work will be needed to impress the influencer.
Alternatively, targeting a slightly less popular blogger can be a good thing because they're more likely to link to you multiple times in the future as they don't have a ton of other successful examples.
5. Stats will drive the future
Good bloggers love stats and will link to a source when they use a particular statistic in their content.
If you collect a ton of stats on different topics in your niche, they will often link to your page as a reference (on top of the original research studies).
For example, in a health niche, you could create stats for things like:
junk food consumption in 2016
average amount of protein in diets of different countries
number of vegans in 2016 (or over the years)
average minutes of exercise that people get per day
Think of stats that bloggers will be looking for.
To make it even more effective, conduct original research: The real power comes when you conduct your own surveys and data analyses.
5 Types of Scalable Backlinks You Can Get Today
1. Guest post backlinks
If you know what guest posting is about, you have a fair and useful way to earn backlinks. It is writing articles or blogs to someone else's website in exchange for a backlink. It is a decent practice where you write informative, sometimes promoting articles for your business or site, and in return, you are allowed to put one or maybe two backlinks. These types of backlinks are valuable because typically, people do a guest post on similar niche websites, which makes this type of link fair.
2. Editorial backlinks
This type of backlink is also considered high quality and can help to improve your site's position. What are these editorial backlinks? When any journalist or big website mentions your business site, or article on their site, that's called an editorial backlink. To get this type of link, you need to have rich quality content or have to be in a good position in your niche. That's how similar websites will talk about you or mention you in some of their writings.
3. Webinar backlinks
If you have a business website where you often do webinars and talk about many problems in your niche, then you got a chance to get these webinar backlinks. Besides that, there are lots of bloggers available who know their field, and they also may organize webinars. These are very valuable and useful for people, so other website owners embed your webinar link to them in any article or somewhere else.
4. Acknowledgment backlinks
When people speak to any event or sponsor that event, you get acknowledgment from the organizer, and they mention you on their site by acknowledging and giving you a backlink. Here you do not need to ask for your backlinks. They usually mention you as you have made a donation to the organizer. To get this type of backlinks, you have a look around what events are going to be held in your industry.
5. Badge backlinks
Another fair and smart technique to gain quality backlinks is providing badges to your niche sites or from where you want backlinks. Giving badges to any website honoring them. You can collaborate with websites about that. When they put the badge on their site, you get a backlink from there.
Grab those backlinks
It's tempting to email hundreds or even thousands of contacts in one go with the same outreach template. The truth is, this may work to some extent if you're lucky but is also a surefire way to burn relationships, too. Scaling through outreach in this way is risky and will quickly reduce the quality of your work.
Scale Link Bulding With Accessily Guest Post Marketplace
What if there were a guest post marketplace that did exactly that? Meet Accessily – the better way to guest post!
Accessily provides a way to scale backlinking through guest posting. For everyone who wants to submit guest posts, this is the fastest way to get backlinks.
All you have to do is choose your category, and you will instantly see all of the sites that fit your subject matter.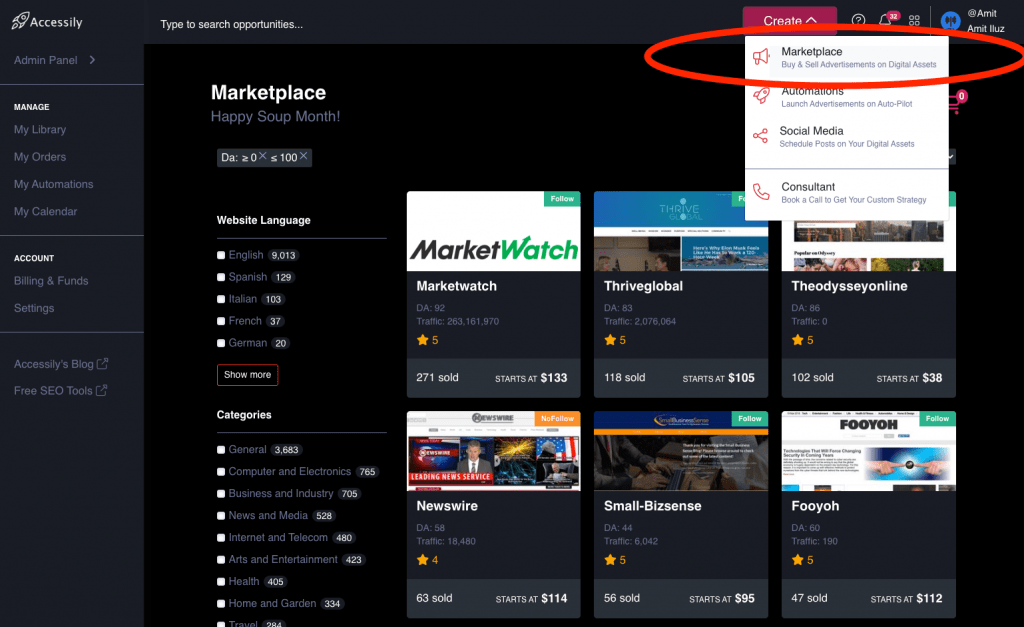 Choose the sites you want, and you are good to go!
The site publishers are quick to respond within the platform and everyone's happy that way.
Because this is a service, you will also be able to get website data, like domain authority and a traffic overview, so you know exactly what you are getting.
Can you think of a more efficient way to scale your guest post process? we didn't 🙂