Search Engine Results Pages (SERPs) are the pages that search engines display after a user has entered their search query. These results are a combination of paid and organic results and a combination of simple website links and other special features.
SEO & SERPs: Why are SERPs Important for SEO?
The search engine result page is the most common way for new users to find a website. In addition, the majority of people only click on organic results on the first page of the SERPs. The second page of the search results is rarely visited and accounts for less than 1% of total organic clicks! That is why everyone wants to get their website to rank on the first page of Google because every other page is practically useless for gaining traffic. Essentially, most SEO efforts are done in order to rank highly on the first search engine result page.
Once a website reaches the first page of Google there is still no guarantee of high traffic. Most of the organic clicks go to the very highest results, in fact, 75.1% of clicks are made on the first 3 results. Also, paid results often push the organic rankings down in the SERP which lowers their click rate. For example, Google may show two or three paid ads above the organic results for "order contacts lens online" and this skews the number of clicks that would normally go to the organic top three results.
Another consideration is that Google sometimes shows SERP features that answer the query directly on the search results page! This means that the user doesn't even need to click a website to find the answer to their query. These factors make it even more important to focus on ranking highly and optimizing strategically to align with the most likely type of search engine features related to your website.
Types of SERPs SERPs results look different for every search query, but they are all comprised of the same elements: Paid ads, organic results, and SERP features
Paid Ads
Paid search results appear before organic results and look virtually the same as organic results except that they are labeled as Ads. The way that these paid ads work is based on PPC 'Pay Per Click'. This means that advertisers select keywords and then place a bid on those keywords based on the number of clicks they want to receive. The advertisers that place the highest bids rank the highest in the paid search results section as long as the ads are relevant to the search query.
Paid ads are a sure-fire way to appear on the first page of Google, but they are expensive for many competitive keywords and they are less trusted by users. Most searchers skip Paid Ads and focus on the organic results because they are perceived as more authentic. In fact, up to 80% of users skip paid ads. Overall, paid ads are a significant investment that may require more capital than they are worth compared with investing directly in SEO and organic search.
Shopping results
This is another type of paid ad but it is specific to products and has a different appearance from traditional PPC search ads. The shopping result section consists of 'Product Listing Ads' (PLAs) and they showcase relevant products from paid advertisers. Every result features the product name, price, and retailer, and some show reviews and special offers. This type of result appears when queries have a transactional or commercial search intent. For example, "Best Deals on Ovens" or "Where to Buy New Kitchen Appliances". There is no way to show up in this section organically, so to be listed here you must start a shopping campaign with Google.
Organic results
Organic search results are pages from Google's index. There are millions of internet pages and since there are often thousands of results that relate to a search query Google sorts them using hundreds of ranking factors. As a result, the most relevant and high-quality pages generally end up on the first page of the SERPs.
Not all of Google's ranking factors are known but there are many on-page and off-page elements that can affect a website's ranking. For example, it is known that the number of backlinks to a page is important. (Check out our guide to getting powerful backlinks through guest posting and our 6 Steps to Building Quality Backlinks)
In terms of how Google displays organic results, they usually show the title, URL, and a descriptive snippet. These results are the core of SEO! If you want to appear in the organic search results, you need to focus on creating the best and most relevant result for a given query! In addition, you need to optimize both the technical aspects of your webpage and the quality of the content.
SERP Features
SERP features are non-traditional results. Sometimes the purpose of SERP features is to generate revenue for Google (i.e., Shopping ads), the aim is most often to provide information in the search results in the most effective manner. This often leads to users finding out the answers to their queries right on the search result page without the need to click a result.
For this reason, SERP features have a significant effect on SEO. Recent estimates suggest that over 50% of searches now result in no clicks. However, being featured in SERP features can also increase clicks to your website. For this reason, understanding the types of SERP features is helpful to improve traffic.
What SERP features are there?
Featured snippets
"Featured snippets give marketers a chance to beat competitors, boost conversions, and drive traffic right to their site! HubSpot research has shown that content with a featured snippet gets a 2X higher click-through rate."
Featured snippets show a snippet of content from one of the top-ranking web pages. The most common snippet formats include the paragraph, the list, and the table. Google pulls the snippet from the content of one of the top five results. If you are already ranking in the top five for a query it is very useful to optimize your page to try to appear in the Featured Snippet. This will give you a competitive edge over the competition guest posts because the Featured Snippet appears above the first organic search result. In addition, this type of result provides maximum visibility and authority as it shows that Google considers this to be the most relevant result to a user query.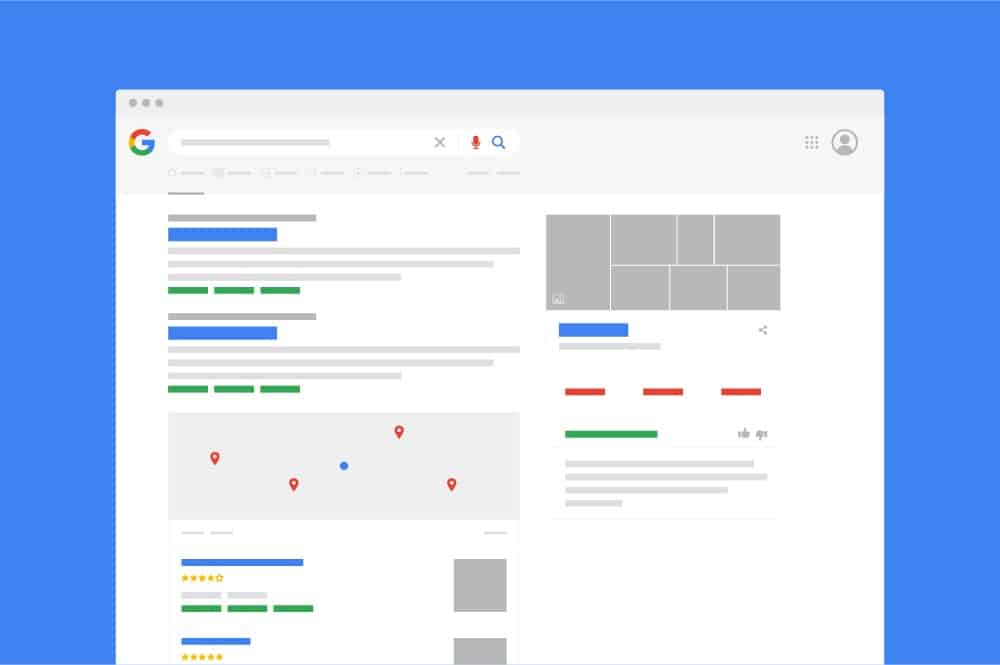 Knowledge Cards and Knowledge Panels
Knowledge Cards are results that appear right at the top of the SERP and in general, they answer search questions that have short, simple, and exact answers. For example, a Knowledge Card might simply state the birthday of Marilyn Monroe when the search query is "Marylin Monroe Birth Date".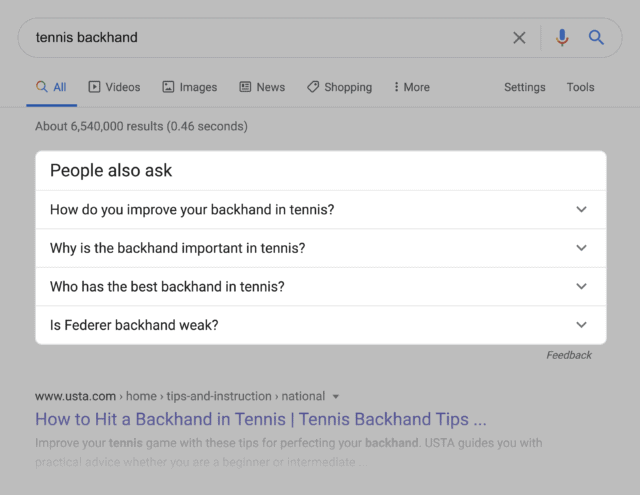 There are three main sources of data for Knowledge Cards: Google's Knowledge Graph, data partners, and other highly-trusted sources like Wikipedia and official government websites.
Knowledge Panels are more in-depth charts that appear on the right side of the SERP page and provide information about the main subject of the query. The information in these sections also mostly comes from the Knowledge Graph and trusted sources like Wikipedia and Wikidata. However, Google sometimes also links to social profiles and partners in this section. For example, search results for 'General Motors' feature a knowledge panel that also links to the company's social profiles and main page.
Image Pack
Image Packs show an assortment of thumbnail images, and clicking on them takes you to Google Images. They often appear at the top of the SERP but can appear further down the page. It is difficult to optimize for this because the feature highlights the link to the Image on Google not to a specific website. However, if images from your website show up here once the user clicks through to Google Images, they will see a link to the image source.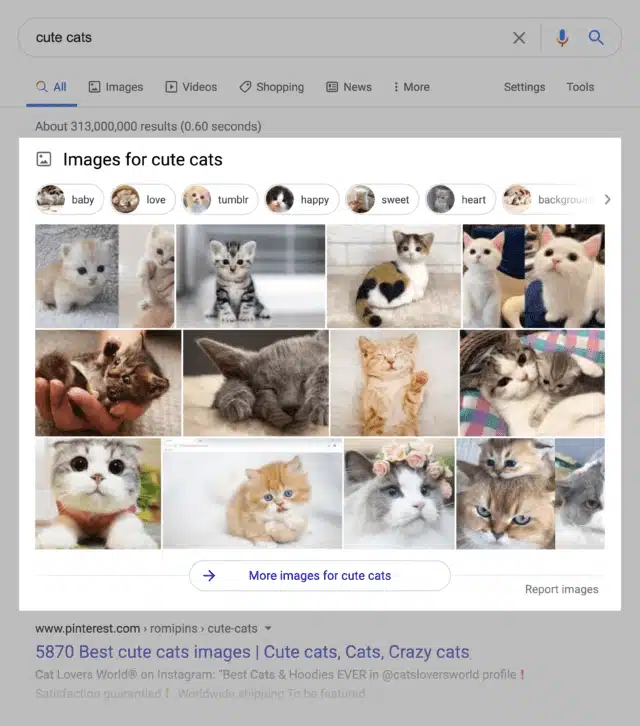 Top stories
Top stories carousels show recently-published articles, blog posts, and videos. Google displays a thumbnail, title, publisher name, and timestamp for each result, and they usually appear near the top of the SERPs. A vast majority of results on this feature come from sites that are indexed in Google News, but it is possible for any credible and relevant post to feature in this section. Most rankings here are short-lived because they focus on current events, but being featured here can lead to a burst in traffic.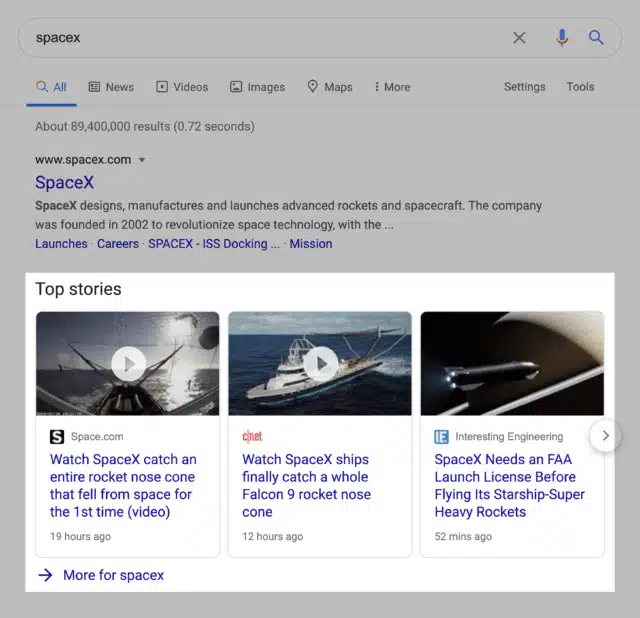 SERPs Overall Takeaways:
There are many different ways that Search Engines can provide data to users after they enter a search query. All of the different types of results can be optimized so that your website succeeds in search and generates more traffic! The important thing is to strategically align your website to search queries and make it suitable for the SERP format you want it to appear in AND to focus on improving the position of your organic results so that you feature on the first page of Google!