In the new world of marketing, the customers are at the center of things compared to the old marketing where the customers were limited in means to consume content by limited resources. Guest blogging is an amazing way to reach new and very targeted audiences.
What is Guest Blogging?
Guest blogging also called "guest posting," is the act of writing content for another company's website. Generally, guest bloggers write for similar blogs within their industry in order to:
Attract traffic back to their website
Boost their domain authority using external links to high-authority domains
Increase their brand credibility and awareness, and
Build relationships with peers in their industry.
Almost always, guest blogging offers mutual benefits for both the guest blogger and the website hosting the guest content. In other words, guest blogging is a two-way street — so when you decide to hop on the guest blogging bandwagon, you should consider featuring posts by guest bloggers on your own website, too.
Why Is Guest Blogging Important For Your Business?
Guest blogging offers a number of benefits for any business. By sharing your expertise on other companies' websites, you can establish yourself as an authority figure within your market, build relationships with other thought leaders in your field and expose your brand to an entirely new audience
Additionally, featuring guest posts on your own blog will help you deliver new perspectives and fresh content to your audience. We're all guilty of falling victim to a routine and growing tired of the same old stuff, so featuring guest posts is a great way to keep readers engaged — not to mention the promotional boost that occurs when your guest bloggers share their blogs with their personal network.
More Guest Blogging Benefits
Here are some of the biggest benefits people get from guest blogging:
Build a profile as an industry expert/thought leader
Grow your personal brand
Grow an audience
Improve SEO performance
Build authoritative backlinks
Build relationships and drive new partnerships e.g. co-marketing partnerships, job offers
Drive referral traffic
Improve a company's brand awareness
Get more leads, users, and even customers
According to a study by SEMRush, 53% of digital marketing specialists say that guest blogging (or guest posting) is in fact the most effective way to build a backlink profile.
A similar link building study published by Aira in 2020 showed that guest blogging is the 3rd most effective way to build backlinks — 51% of respondents said they use it.
How to Find The Best Guest Blogging Oppurtunities?
The first thing you need to think about before you looking for guest blogging opportunities is the relevance of your business/website in the required guest post and you need to ask yourself the following questions :
What is my targeted audience? Business Owners, Consumers
What is the value I'm bringing to the readers? Review, Promotion
Preferred voice? First/second/third person
What is the targeted gender? Men/Women or Both
What is my main goal? Generate leads/sales, SEO, Brand awareness
"To have a successful guest blogging program, pick topics that serve your ultimate goal — whether that's referral traffic, SEO performance, leads, or clients."

Hubspot
STEP #1: Go To Marketplace
I hope that the above questions helped you focus and help you to decide what guest post you are looking for.
In case you are still not registered to Accessily you can sign up here and navigate to the Marketplace using the left sidebar.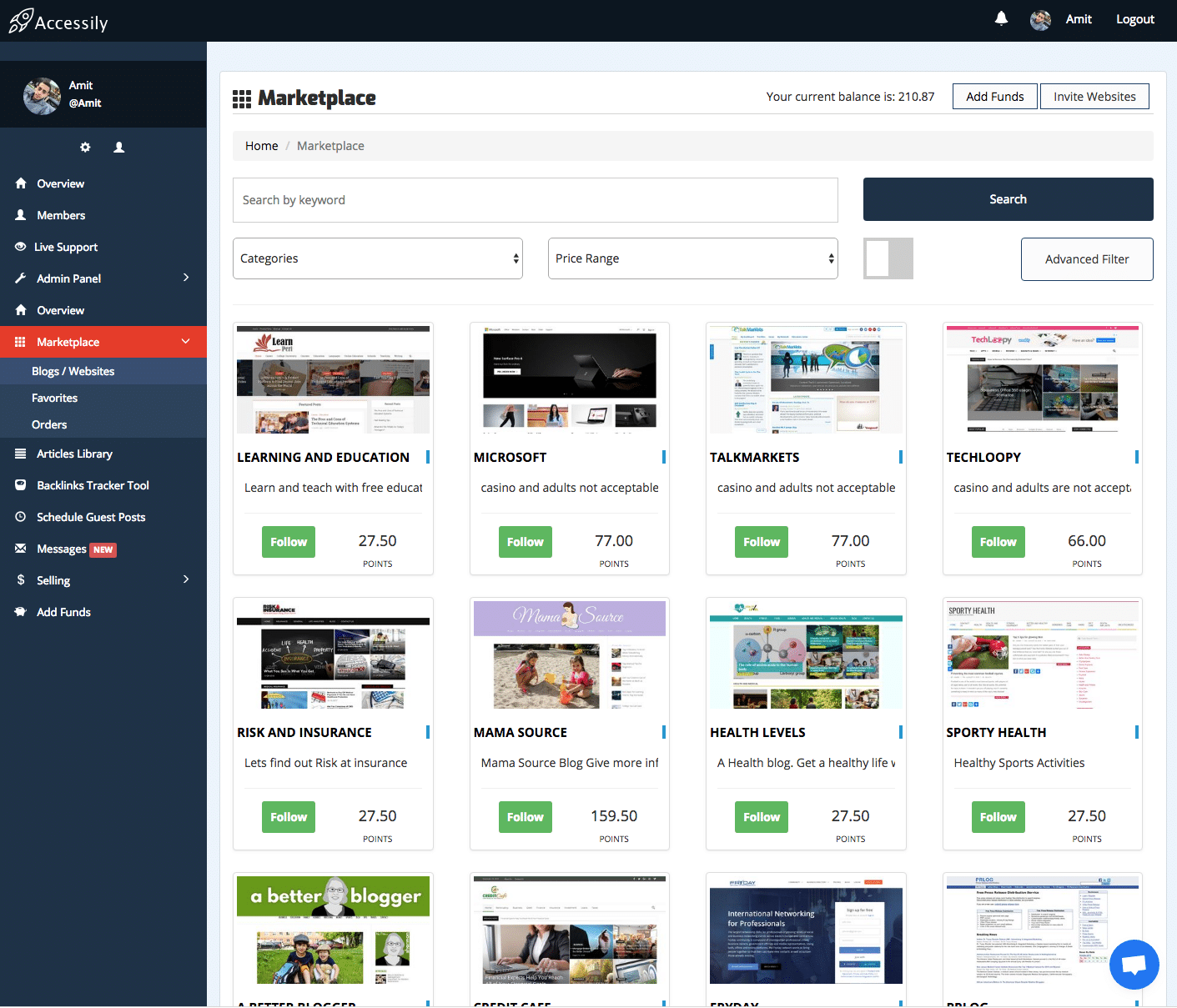 STEP #2: Filter Results
Using Accessily advanced filters option you can get thousands of websites that willing to publish a guest post on their website based on your business requirement by price, category, keywords, Google indexed pages, quality badges, and language.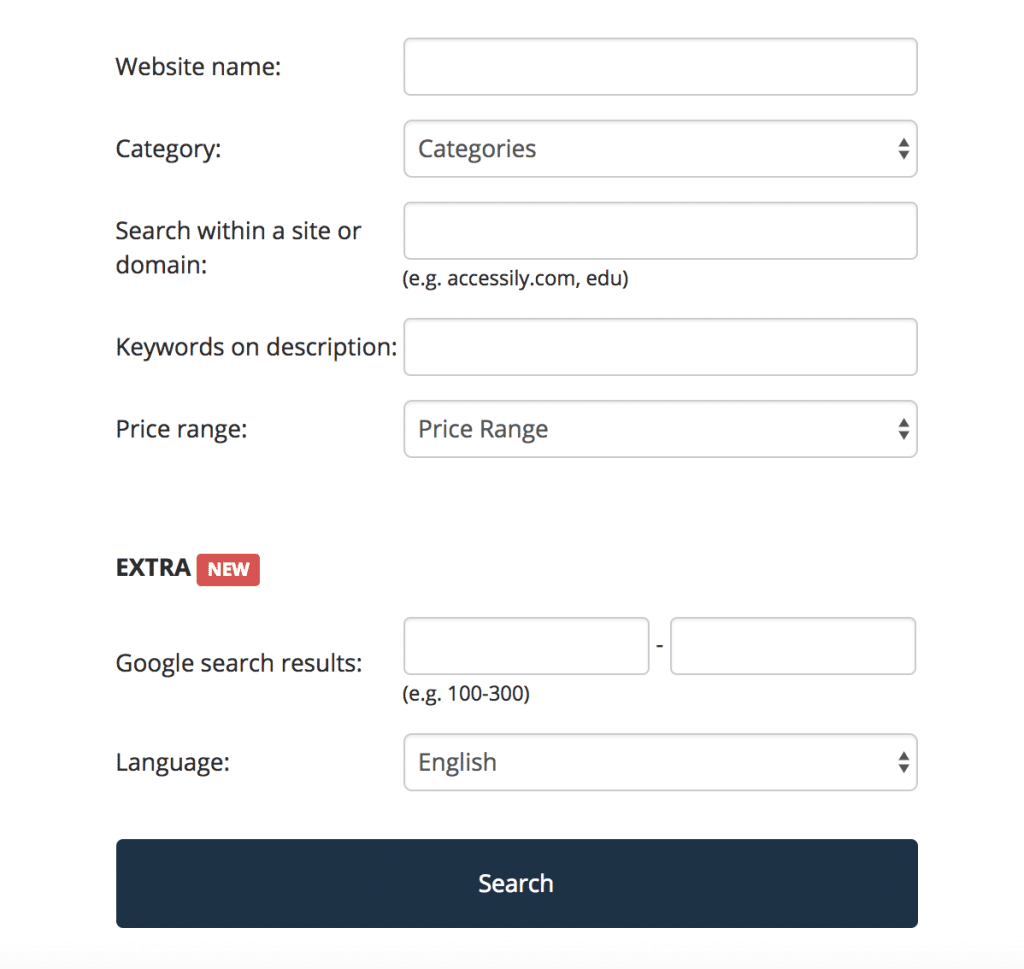 STEP #3: Publish Guest Post
In case you don't have money on your account go to Add Funds page.
else you can continue straight forward to order the chosen guest post.
The guest post will be live in 3-14 days.
Recommended Links:
Sign in to Accessily dashboard
Register to Accessily (FREE)