In today's world, there is a big competition between businesses in the same niche.

The streets where every seller used to shout what he is selling in order to grab himself the attention of the people who were hanging in those streets,
became today's Google search results.

If you want to be valuable to customers who are looking to improve their SEO results you need to have SEO leads.
How does SEO leads relate to you?
If businesses want to beat their market competitors they need to have the upper hand in the search results area.
SEO became so important that some companies and organizations are investing millions of dollars in order to be leading the competition in the search results.
Some customers hire their own SEO specialists that are doing that job for them, but once you will learn the steps that are mentioned in this post you will be more important to those people who hire specialists and they will turn to you instead of their specialists.

So more customers could be driven to the business's website.
In order to be an important and relevant SEO service, you are going to need to have SEO leads.
A Few Tips to gain SEO leads:

1. Audit Tool – Give your customers access to a tool that offers them to check their SEO progress for free in exchange for their contact information.
Contact information is a direct channel for you to turn to these customers in person and convincing them why they need your services.

2. Free Resources – Pretty similar to the audit tool, giving your customers free access to other tools you have produced for free.
This method allows your visitors who are yet your customers discover the benefits of using your services.

3. Customer referral discounts – In case your customers are happy with the usage of your services they might refer them to their friends and other colleagues.

By rewarding them a discount you are motivating them to work for you by reaching out to more people.

There isn't a better commercial more than a happy customer.


4. Live Chat – Adding a live chat to your website allows you to offer help for customers who needs help or have any question that you could answer them, people love special treatment.
In fact, the live chat helps you to generate more sales.

5. Strategic Partnerships – Finding yourself partnerships with other businesses that could help your business grow in areas you don't have enough resources to expertise in.
Building by offering them a discount or a free usage of your service for their work you can find yourself improving your business rapidly.
Today's world is all about collaborations, no one really succeeds alone, if they are a part of a slight percentage.

6. Offering Services for Bad Website Owners – Contact a website owner that is website ranked not on the 3 first pages of Google's search results and offer them your help.

Once you have helped him find success and be ranked on the first page it is like your service is wearing a medal for the good job you've done.
Helping those sites could be used as an example for your future customers how they can benefit from your services.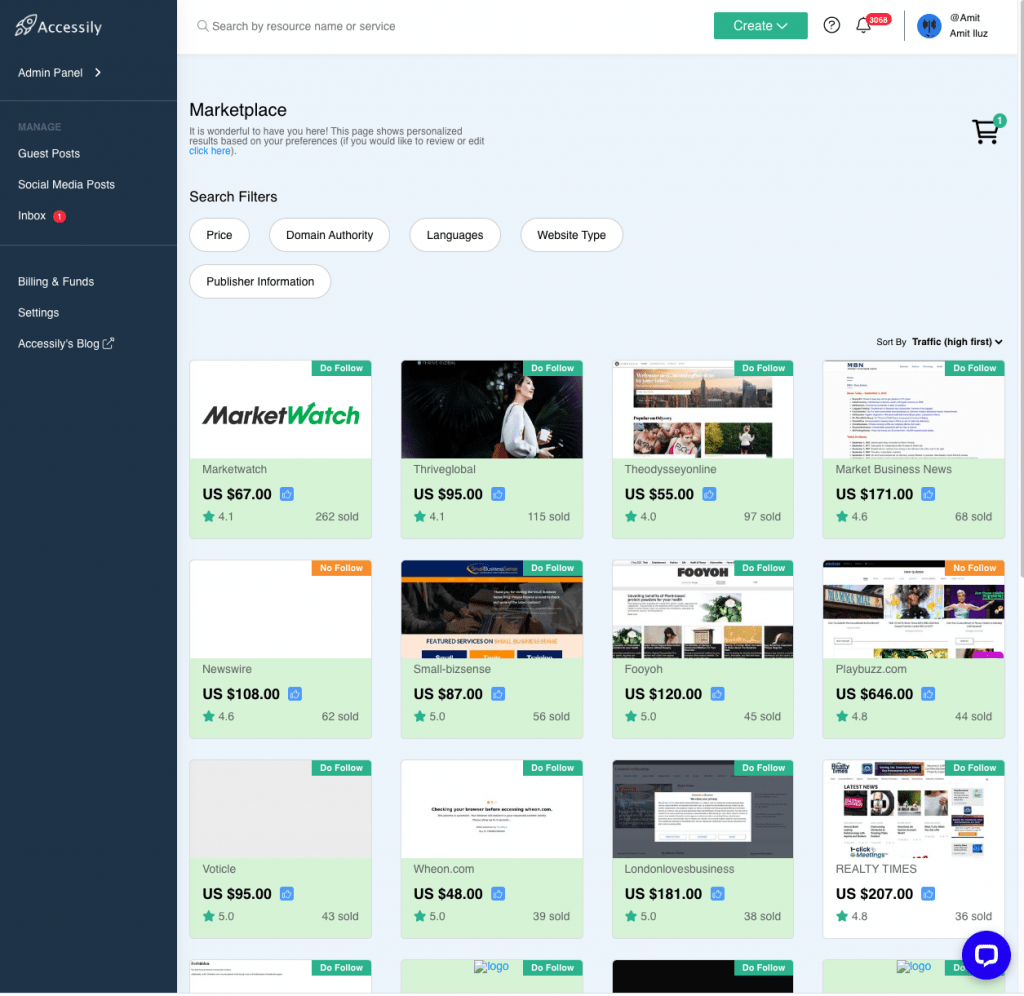 Manage your customers' SEO campaigns
After you have gathered yourself a certain number of customers, Accessily is the perfect white-label solution to the issue of managing so many customers in so little time frame.

It is important to mention that the platform is very easy to use.
Accessily's marketplace contains thousands of websites that are willing to promote your clients in their articles/blog posts through guest posts.

Accessily's platform gives even someone that is new to SEO so many resources to work with, even the option to manage their SEO clients' campaigns, details about their progress, tips on how to improve in the process.

We invite you to join our platform and to see for yourself how fast you can improve your SEO business.