One of the most significant challenges in SEO is scaling & measuring the effectiveness of the backlinks.
Backlinks are extremely valuable for SEO because they represent a "vote of confidence" from one site to another.
Scaling link building is tricky in competitive industries, especially when you're up against big brands who may be generating far more links than you each month. Just building enough links to keep up with them — let alone outpace them — can be difficult.
Of course, link building is becoming less a numbers game (and has been for a long time). Still, the truth is that you're likely to need a good volume of links in order to compete.
What is a backlink?
In short, A backlink is a link created when one website links to another. Backlinks are also called "inbound links" or "incoming links." Backlinks are important to SEO.
In essence, backlinks to your website are a signal to search engines that others vouch for your content. If many sites link to the same webpage or website, search engines can infer that content is worth linking to, and therefore also worth surfacing on a SERP. So, earning these backlinks can have a positive effect on a site's ranking position or search visibility.
What is Guest Posting?
Guest posting is content about your site posted on another site, this can be a blog post, an article, or another form of content. This unique method combines the benefits of content marketing with the benefits of SEO for a majorly impressive return on investment.
Guest posting in the past was more complicated because the outreach process was time-consuming and labor-intensive, but this process has been streamlined by Accessily's GuestPost Marketplace and Campaign Algorithm.
Why Choose Guest Posting to Generate Backlinks?
There are many ways to build backlinks, but not all backlinks are equal. For example, commenting on your link under a blog post is a poor way to create a backlink because the comments with links are considered spam and soon deleted.
The backlink in such a location is also less valuable because it does not set you up as an authority on the subject at hand, which is one of the most important benefits of backlinks.
Even if you create a permanent backlink, the location of the backlink matters because having low-authority websites provide backlinks that look like spam can have a negative effect on SEO.
Guest Posting with Accessily Builds Powerful Backlinks
Guest Posting is a powerful SEO tool because it is an effective way to generate permanent backlinks. This specific method strategy matters to ensure that backlinks are high-quality and that the endeavor is scalable and easy.
Guest Posts provide organic authoritative backlinks from a variety of high domain authority websites that are relevant to your niche. The relevancy of the audience is important both as an investment and for SEO.
The more helpful information is the users who search for it, the higher it is supposed to rank, so Guest Posts align with the core principles of SEO by combining the content elements and backlinks.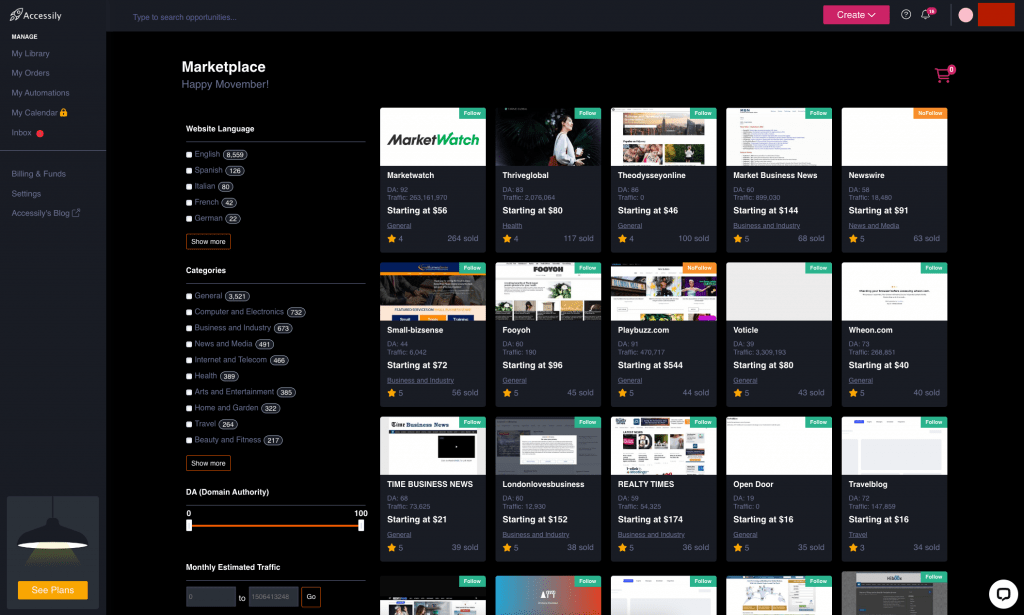 Benefits of Backlink Creation
The creation of backlinks is important because it improves SEO, but what does that mean for your bottom line? SEO is a good investment because a higher search engine ranking leads to a higher click-through rate, which translates into increased organic traffic, new leads, new customers, and higher conversion.
Good SEO also leads to greater brand awareness which also contributes to success, as more people are aware of your website as an option for them to use.
"Focusing on quality [backlinks] over quantity is what can help to protect your site as Google updates."

Adam Riemer, SearchEngineJournal.com
Improve Traffic
One way to improve traffic to your website is to guest post. This means posting your content on another blog or online publisher.
This will expose your blog to a bigger audience and increase referral traffic. It will also improve your SEO because of backlink generation, and backlinks are a major SEO ranking factor. The easiest way to guest post is to find opportunities on the Accessily Guest Post Marketplace
Conclusion
In conclusion, Guest Posting is a great way to create powerful backlinks that will have a positive impact on SEO, and these SEO benefits will lead to greater traffic and usage of your site. The unique nature of Guest Posting on Accessily makes it easy to scale backlink production and ensure the high quality backlinks.