One of the most important SEO strategies to rank higher in SERPs includes link building which brings authority to the site.
Backlinks are extremely valuable for SEO because they represent a "vote of confidence" from one site to another. The right SEO strategy with an implementation plan needs to be in place to succeed with this.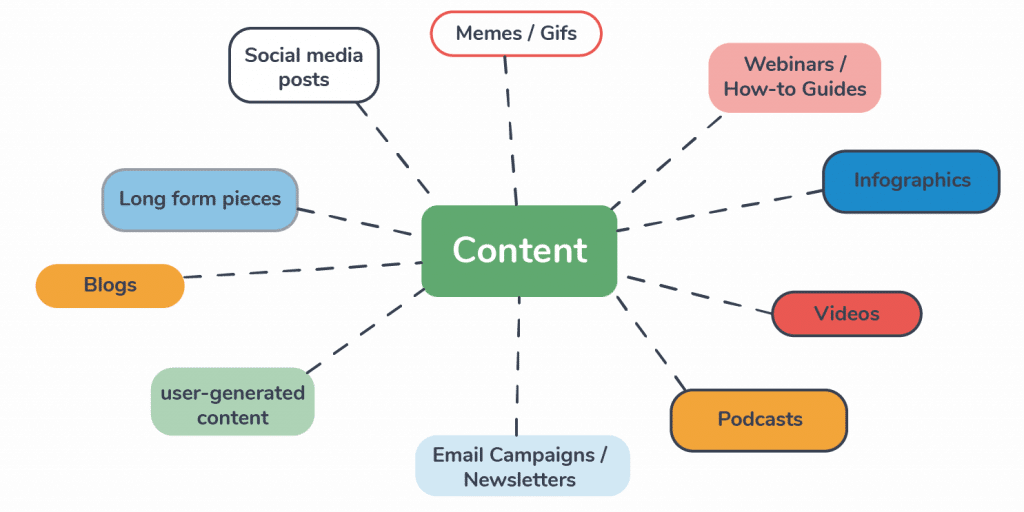 Link-Building Strategies VS. Tactics:
Scaling link building is tricky in competitive industries, especially when you're up against big brands who may be generating far more links than you each month. Just building enough links to keep up with them — let alone outpace them — can be difficult.
The difference between creating link-building strategies for better website SEO and listing down tactics to gain the desired result is like two sides of a coin. Creating high-quality content which is link worthy should be the strategy to get more traction from the target audience. This has to be achieved by various tactics, which we have discussed below.
1. Outreach (Guest Posts):
Link-building Outreach is an SEO strategy used to build valuable links from other websites and external publishers to a single website. The aim is to build brand awareness, enhance the website ranking on search engine results pages (SERPs), boost organic and referral traffic, grow the target audience, and increase sales. When done correctly, link-building outreach can result in creating high-quality backlinks.
Remember, the value of one high-quality link from an authority domain is much greater than several low-quality links.
Basically, in DIY guest post outreach, you do all the work of guest posts yourself from research to outreach to writing. This process is pretty in-depth and time-consuming.
First, you have to research websites in your niche or industry, with an audience that matches your target market. Then you need to evaluate whether those sites match your goals, by answering questions like:
Do they have a high enough domain authority? Do they have a high number of monthly visitors? Etc.
Once you have found these sites the work has still just begun! Then you have to find the contact information of the right person who can decide about what is posted on the site and you have to email them, again and again, in hopes of maybe getting a response.
If you do get a response then you need to negotiate the price and the content, which may or may not result in an agreement. But if all goes well at the end of this process you have a guest post on another website.
2. Guest Blogging:
Another strategy that you have likely heard for link building is guest blogging. This can help you earn mid to high-quality links back to your site.
Guest blogging is the process of writing content and publishing it on another website with a backlink to your site. It is one of the most popular link-building strategies. But you must be careful while implementing it because there is a right and a wrong way to do guest posts. You will be violating Google's guidelines if you are guest blogging only to get backlinks to your site.
If you are worried about Google, which has warned against guest posting, it does not mean you completely eliminate it or stay away. You just have to stick to the new version of guest posting, which is all about intention.
The intent of posting for the other site should not just be to link it to your site blindly. Your approach towards the guest post should be that you write to educate the site's readers. Look for sites sharing outside content but not advertising guest posting opportunities.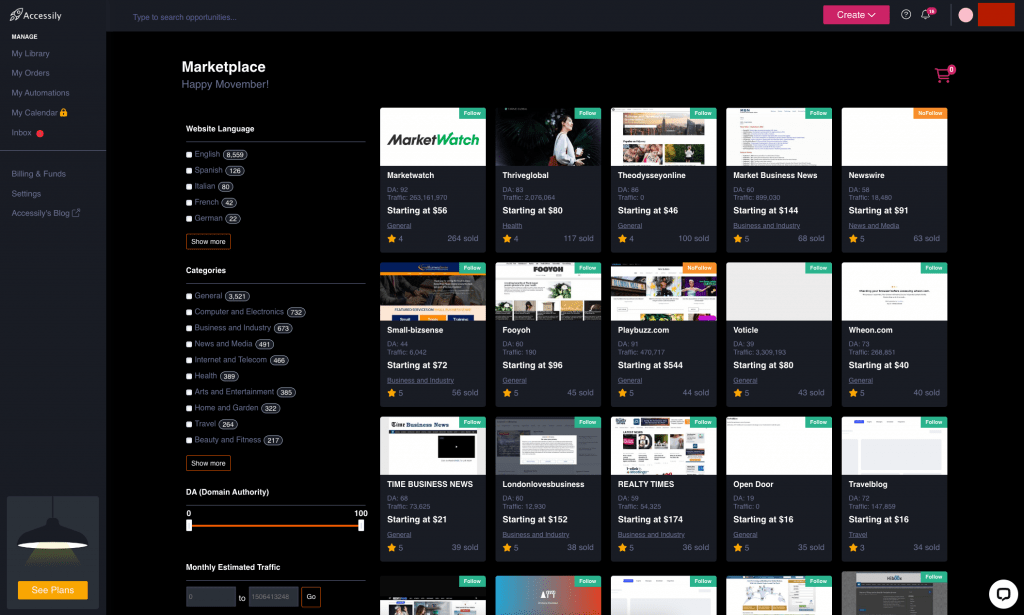 What if there were a guest post marketplace that did exactly that? Meet Accessily – the better way to guest post!
Accessily provides a way to scale backlinking through guest posting. For everyone who wants to submit guest posts, this is the fastest way to get backlinks.
All you have to do is choose your category, and you will instantly see all of the sites that fit your subject matter.
3. Broken Link Building:
One of the easiest ways to earn links is through broken link building, which involves finding broken external links on other websites and suggesting the link of your post as an alternative.
Dead links make the user experience poor, and nobody wants them on their website. You can start finding broken links on your competitor's website. Then create your own content that could be relevant to that link. The quality of the alternative content you suggest should be high quality to get approved. Send an outreach email for broken link building to help your website's SEO.
4. Unlinked Mentions:
You can reclaim unlinked organic mentions to your site. When a website mentions your brand name but does not link to your website, these are called online brand mentions. If a website has mentioned you by the name, they are already familiar with your business. This makes it easier to convince them to add the site's link. Though this works mainly for more prominent brands that get a lot of press coverage, several times, you can also see results with smaller websites.
When you see a website mentioning your brand name but not linking it to your website, you can email them and ask them to give you proper credit by linking it to the relevant page. Remember, you are already halfway there. The author is familiar with your business and has already mentioned it on their website. Reaching out to them and convincing them to convert this into a link will not be that tough.
5. Link Reclamation:
Link building is not really an easy task. They are difficult to build; hence, following SEO strategies like link reclamation can help recover lost backlinks. Losing backlinks is very common. It happens all the time. If a website that used to link to your site has suddenly removed the link, there are chances that they can revive the link if you request them by reaching out.
They are aware of your brand, as it was already mentioned on their website, which can be an advantage for you. If they find your reason legit, they may be willing to revive the link again.
6. Paid Promotion for "Linkable Assets":
As the name suggests, linkable assets are contents that are of a useful nature that automatically attracts backlinks. A few examples are animated infographics, calculators, free tools, and much more. The content shared along with these assets should also be engaging with the audience. Hence, it automatically earns links.
For example, creating beautifully animated infographics is a smart way to secure valuable backlinks. It also attracts a higher share rate, which can highlight your page and increase engagement.
An outreach program for such content can be helpful, but it is like a needle in a haystack. Other ways to get your content more attention is through paid promotions using social media platforms, such as Facebook ads, Pinterest ads, and Google AdWords.
Do not pay outrageous fees for the ads, but spending a small chunk can often be enough to attract a lot of traction if your content resonates with the target audience.
7. Steal Links from Inferior Web Pages:
The internet is filled with mediocre content. But you will still find such sites getting backlinks from many other sites just because they do not know that another site exists with higher-quality content on the same topic. Why not introduce them to your website with better content than the one they are already linking to?
You can outreach them and present them with your content and request them to link to your web page instead. This also helps them because they are directing their users to a site that offers useful information. The idea of adding a link is with the right intent; hence they will not be penalized by Google
8. Content Repurposing & Syndication:
Content repurposing for link building is a tactic that can help you save some time and repurpose the same content in different ways. For example, suppose you have an interactive animated infographic already present that you have spent a lot of time designing. In that case, you can convert it into an infographic or a video. You can submit these contents to appropriate places such as video-sharing sites, infographic directories, etc. This only means all link-building SEO strategies need not be outreach based.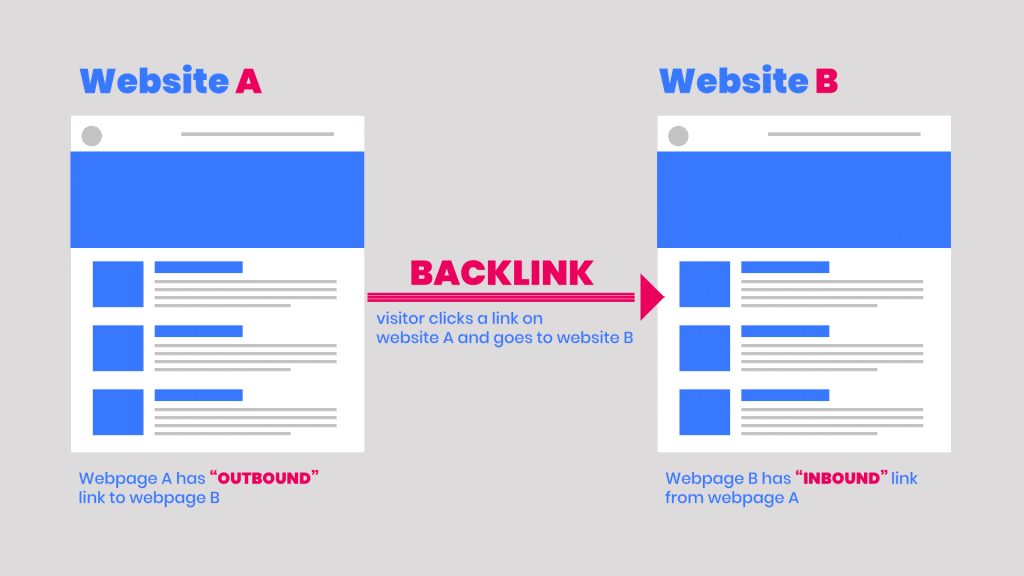 9. Community Site Link-Building NLP Phrases:
Link building is not just about getting quality backlinks from top-rated websites but to get links from diversified sources. You can also build links through forums and message boards like Quora and Reddit.
Though most of these links are no-follow links, it is not bad for the site to have both follow and no-follow backlinks. Also, when there is a very popular thread on Reddit, sometimes they remove the no-follow attribute. Hence, you can always take your chances.
Another way of building links is through thoughtful comments on a relevant blog post. Again, this is mostly a no-follow link, but your content gets recognition from more people.. This can lead to you getting more backlinks from someone who has viewed this content and is willing to add the link to their website.
The Bottom Line:
There are many ways to build backlinks, but not all backlinks are equal. For example, commenting on your link under a blog post is a poor way to create a backlink because the comments with links are considered spam and soon deleted.
The backlink in such a location is also less valuable because it does not set you up as an authority on the subject at hand, which is one of the most important benefits of backlinks.
Even if you create a permanent backlink, the location of the backlink matters because having low-authority websites provide backlinks that look like spam can have a negative effect on SEO.
Though link building is hard, it is not impossible. Link building strategies and domain authority building tactics listed above can help create powerful backlinks for the site, improving the target audience engagement and SERP ranking.